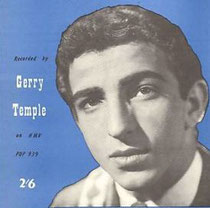 GERRY TEMPLE

Keith David DeGroot had been on the fringes of the London music scene since the early '60s. 
As a teenager he recorded with legendary producer Joe Meek, releasing three singles under the pseudonym "Gerry Temple". 
He also did work as a session singer and had worked briefly with Chris Farlowe in the mid-'60s. 
By 1967, however, he was out of a gig and feeling depressed. 
His friend-slash-wannabe-manager, Reg Tracey, offered to bankroll sessions for an album in hopes of re-launching his career. 
DeGroot called on a couple of old friends to help with the project: Glyn Johns (who engineered and co-produced) and Nicky Hopkins (who played piano and wrote the arrangements). 
They in turn brought in their session pals John Paul Jones (bass), Clem Cattini (drums), Big Jim Sullivan (guitar), and Albert Lee (guitar). 
Sullivan & Lee were not available for the second session, so Jimmy Page -- on break between Yardbirds tours -- filled in. 
Everyone agreed to work for minimum wage -- except for Jimmy Page, who did the session in exchange for the publishing rights to the two original compositions on the album. 
Classic Jimmy.
It wasn't until after the backing musicians made it big elsewhere that the album was finally released in England and America -- although under the title No Introduction...
It has since been issued dozens of times.