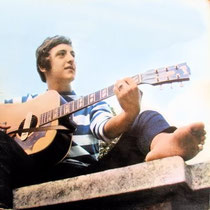 JOHN WILLIAMS
John Williams was the vocalist and bass player for an R&B group called The Authentics.
They formed in Bedford in 1963, featuring John and his younger brother Berne Williams, who had briefly been the guitarist with Neil Christian & The Crusaders (Jimmy Page's former band).
In early 1964 The Authentics were signed by manager/producer Giorgio Gomelsky and offered a weekly residency at The Marquee Club -- as the opening act for another group under Gomelsky's management, The Yardbirds.
Eventually Gomelsky arranged for the group to record a single.
The band was assisted by session guitarist Jimmy Page, who bonded with John over their mutual interest in folk music.
Page's connection led to the group recording a song written by Page's girlfriend, Jackie DeShannon ("I Don't Wanna Be Without You").
According to Berne Williams, DeShannon and Page actually co-produced the session.
Unfortunately, single was never released.
Berne Williams believes that Gomelsky deliberately suppressed the recordings because he was trying to persuade DeShannon to write a song for The Yardbirds.
The Authentics broke up, with the Williams brothers forming a short-lived duo, then joining a band called Crow.
In 1965, Page went to work for Andrew Loog Oldham as a talent scout & producer for Immediate Records.
John Williams was subsequently signed to Immediate, and began to record "The Maureeny Wishfull Album" with contributions from Page (guitar & sitar), Big Jim Sullivan (guitar), Vic Flick (guitar), and Berne Williams (guitar).
Williams also began to dabble with songwriting, with Page promoting Williams' songs in exchange for a cut of the publishing royalties.
(One success was the song "Little Nightingale", which was recorded by both The Mindbenders and The 'N Betweens in late 1965.)
Williams recorded two albums worth of material for Immediate, but Oldham pulled the plug -- and confiscated the master tapes!
Williams then signed a solo contract with EMI/Columbia, releasing a self-titled folk album and two 45s in 1967.
The album contained some of the material from the Immediate sessions, including two songs ("Lullaby" and "Royal Blue") which were published by James Page Music.
Meanwhile, Williams recovered some of the master tapes from "Maureeny Wishfull" project.
He arranged to release 14 of the songs on a privately pressed album (supposedly limited to 300 original copies).
Six of the album's songs were published by James Page Music, although all of the songs were written by Williams.
Williams quietly disappeared from the music scene in the late '60s, and went on to work as a probation officer in Britain.
(He's obviously not the famous film soundtrack composer, nor is he the classical guitarist of the same name, nor is he the guy who played with Dave Edmunds and Love Sculpture.)
Berne Williams became a graphic artist, illustrating dozens of children's books.
Credit: Scott Swanson