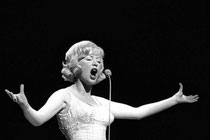 KATHY KIRBY
From Page's Official:
ON THIS DAY… 01 NOV 1963
KATHY KIRBY RELEASED SECRET LOVE
This was one of the early sessions that I did where I was allowed to introduce my own riffs on top of a Charles Blackwell arrangement.

This was an evening session at Decca Studio Number Two, West Hampstead, and she looked gorgeous and probably inspired my playing!

She also lived with a famous orchestra leader Ambrose, who was 40 years her senior!