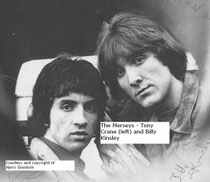 THE MERSEYS
"Sorrow" was discovered on the 'B' side of the McCoys' 'Fever' by a guy called Ray, who worked for Kit and Chris.
It was a very Neil Young type of vocal and too country and western sounding. 
Once rearranged the harmonies and added a strange vocal line that was sung after the main line and that was it, the song became a winner.
They got Jimmy Page, Jack Bruce and Clem Cattini to play on it in a small studio in Denmark Street. 
Than they changed it again and then got a bigger band, including John Paul Jones (Jack Bruce couldn't make it to the second session), Jimmy Page, Clem Cattini, Benny Green and many more infamous musicians and did the song live at CBS Studios in New Bond Street, London.