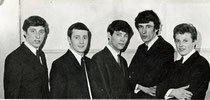 THE FENMEN
One of the many tracks cut by Jimmy Page in his pre-Led Zeppelin days as a session man has surfaced on a television trailer for the BBC's weather forecast.
The track, "I've Got Everything You Need Babe" by cult British beat combo The Fenmen was released on the Decca label in 1965 following the band's split with frontman Bern Elliott, but it did not replicate the success of earlier singles, Money and New Orleans.
Page, who estimates he recorded three sessions per day in 1964 and 1965, identified his presence on the track when he saw the trailer on television.
"I heard the track the other day while I was watching TV," he tells MOJO magazine. "I thought, 'Oh. That sound familiar.' Then, all of a sudden there's a solo that comes in and I go, 'That is me!' It's something that I would have forgotten about had I not heard it again. In fact, if they hadn't left the solo on the trailer, I may not have known I'd even played on that track."