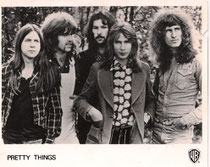 THE PRETTY THINGS

When Andrew Oldham fed the press with the line "Would you let your daughter go out with a Rolling Stone?" the majority of parents said "No" but the Pretty Things...parents wouldn't let their daughters within a mile of them.
Wilder than the Stones, their Garage/R&B sound invented '60s punk.
The Song "You Don't Believe Me" from 1965 has been hailed as the first "Garage Classic" was also written by Jimmy Page.
This song and "We'll Play House" are both on their second album Get The Picture, both feature Page on Guitar.
In 1974 Page signed them to Swan Song but they never captured the public interest.
In june 1994 original members Dick Taylor and Phil May put together a new line up and began to record new songs, Page recorded "Mony, Mony" with them.
The album was due for release at the end of the same year but failed to appear until 1999 with the title Rage Before Beauty.