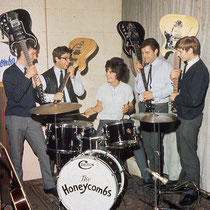 THE HONEYCOMBS

It has been claimed that Jimmy Page played session guitar on the song "Have I The Right". 
This is however untrue.
Jimmy Page did do session work for Joe Meek but this band was a real performing group who had come from playing regular gigs. 
Every one was a genuine musician, and they had perfected a sound which Martin Murray had worked hard to achieve. 
But here is what Martin Murray himself said about this question just in case anybody needed further clarification:
"I have heard this story many times before, the answer is NO, the only Musos to play on Have I The Right was the HONEYCOMBS."
Nonetheless looks like on their debut album there are two tracks of interest, the first is "That's The Way", which also was issued as a single and features Ritchie Blackmore, and the second is the Freakbeat number "She's Too Way Out".
This track features the band's guitarist Allan Ward on keyboards leaving Jimmy to play the freakout guitar solo backed on rhythm by Martin Murray.
Controversial.