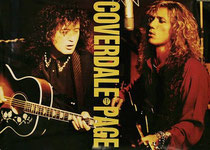 COVERDALE - PAGE
Coverdale/Page was a musical collaboration featuring Whitesnake and former Deep Purple lead vocalist David Coverdale and Jimmy Page.
The project commenced in 1991 at the suggestion of American A&R executive John Kalodner, as both artists were signed to Geffen Records at the time. Their debut album, Coverdale/Page was released on March 15, 1993, reaching No. 4 in the UK and No. 5 on the US Billboard 200 chart. Five singles were released to promote the album: "Pride and Joy", "Shake My Tree", "Take Me for a Little While", "Take a Look at Yourself" and "Over Now".
After a series of concerts in Japan, sluggish tickets sales for a subsequent world tour resulted in the partnership being dissolved.
Page subsequently teamed up with Plant for an "UnLedded" MTV project and Coverdale returned to Whitesnake.