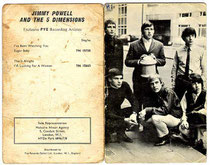 JIMMY POWELL & THE FIVE DIMENSIONS

A quite complicated line-up building over the years but to cut the story short, Jimmy Powell a popular singer with a lot of work but no band, was auditioned by The Dimensions in 1963.
At this point the band changed the name to The Five Dimensions and then to Jimmy Powell & The Five Dimensions.
This first line-up included Rod Stewart as their harmonica player who left the band at the end of 1963.
At the end of 1964 Jimmy Powell released "I've Been Watching You"/"Sugar Babe(new version) "
Both tracks were recorded by Jimmy Powell backed up by Jimmy Page (guitar), John Paul Jones (bass) and Clem Cattini (drums).
(thx to B. Ceriotti)