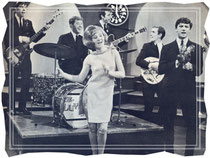 LULU & THE LUVVERS

Scotland's very own "Little Miss Dynamite" burst onto the music scene in 1964 with "Shout" a song that featured both Jimmy Page and Jim Sullivan.
Both Sullivan and Page worked on early Decca sessions with Page also playing on "Forget Me Baby", her version of Them's "I'll Come Running" and the Jagger/Richard's song "Surprise Surprise".
When she moved to work with Mickie Most it was John Paul Jones' turn to work with her on hits such as "To Sir With Love" and her great version of Tim Rose's "Morning Dew".