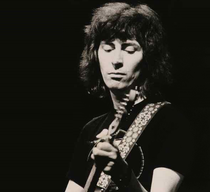 AL STEWART
Stewart wrote the A side to his debut single and chose to cover the Yardbirds song 'Turn Into Earth' on the B side.
J. Page replaced Beck's original guitar with his own for the track and also played on the A side.
In 1969 he cut a second album which was to prove high controversial due to the use of the word "F..K" in the title track.
Page played guitar on two tracks, "Old Compton Street Blues" and "Life & Life Only".