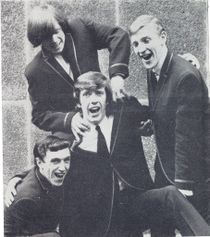 THE ZEPHYRS
The obscure British Invasion band the Zephyrs released half-a-dozen singles between 1963 and 1965 without any notable success; the only one to make the U.K. charts, "She's Lost You," topped out at a mere Number 48.
They were a decent group, though, mixing Merseybeat and R&B influences in different ratios, with an organ that made them a little similar to some other mid-1960s British rock bands with a mildly blues-jazz organ, like the Untamed.
They also worked with a couple of important figures of British '60s rock, those being producer Shel Talmy (far more famous for producing the Who and the Kinks in the same period) and then-session guitarist Jimmy Page who played on some of their tracks, including their best, a ferocious cover of Bo Diddley's "I Can Tell".