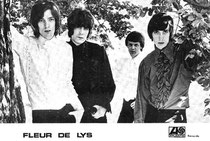 LES FLEUR DE LYS
The Fleur de Lys (or Les Fleur de Lys as they were originally known) were formed in Southampton in 1964.
The band was the brain child of Dave Jay, Southampton's answer to Brian Epstein and they became one of the most talented of Britain's bands throughout 1965 to 1969.
During their varied personel changes, only drummer Keith Guster was a member throughout their entire history until they finally disbanded in 1969.
After a little over a year of continuous hard slog they came to the attention of Tony Calder, Andrew Loog Oldham's partner in the newly formed Immediate records, and he offered them the chance to make a record.
Le Fleurs duly obliged and the result was their debut release 'Moondreams' in November 1965 which was produced by Jimmy Page who played on the B side.
Their second single, a cover of The Who's "Circles", also has Page playing guitar.