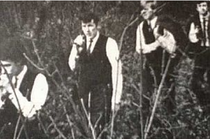 THE MASTERMINDS
The Masterminds were a Liverpool group around 1964.
They were quite popular in a Liverpool club called the Blue Angel.
One night The Rolling Stones, with manager-producer Andrew Loog Oldham came to the club after playing a gig at the Empire Theatre and saw the Masterminds doing Bob Dylan songs.
Oldham must have been impressed, as he signed them up to his new Immediate Records label and they cut "She Belongs to Me," their one and only single, in the spring of 1965.
None other than a young Jimmy Page happened to be the session guitarist player during the cutting of the song.