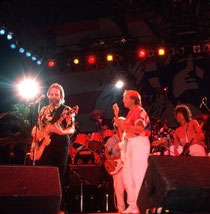 THE BEACH BOYS
On July 4, 1985, a crowd, estimated at one million, gathered in Philadelphia and later at night Washington DC to celebrate the 209th anniversary of America's independence.
The Beach Boys were joined by Mr. T. on drums to really add some fireworks to the festivities.
From Page's official: 
Philadelphia and Washington were played on this memorable day and we travelled by train between the two cities.
Mr T was also on that trip. I became quite friendly with Beach Boy musician Bruce Johnston. It was an honour to meet Brian and Carl Wilson and play with The Beach Boys on this historic day, however we don't celebrate July 4th in England.