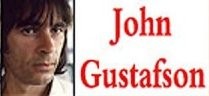 THE QUOTATIONS

Excellent heavy rock band from the pioneer of the rock trio John Gustafson.
Gustafson formerly of The Big Three formed this band after a stint with The Merseybeats in 1964 and signed a deal with Decca for one single.
Page played rhythm guitar on the A side.
After the single Gustafson worked on various sessions himself and later reformed the band in 1968.
He worked then with Mick Farren, Roxy Music and the Ian Gillan Band.