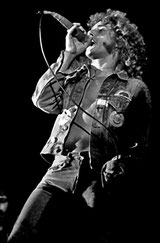 ROGER DALTREY
The Who's lead singer, Roger Daltrey solo album was first released in 1973.
The album was recorded during a hiatus time in The Who's touring schedule.
The top single off the album, "Giving it All Away", reached number five in the UK and the album made the Top 50 in the United States.
He also released a single in 1973, "Thinking" with B-side "There is Love" that was not issued on the LP which features Jimmy Page on guitar.