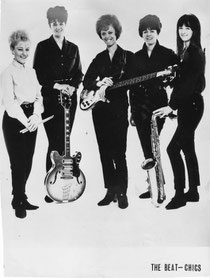 THE BEAT-CHICS
The Beat Chics, a british All-Girl Group with all members in their twenties were active in the years 1963 – 1967.
Six girl graduates of the Ivy Benson Band.
All are professional musicians, who can read, write and score music.
Left to right: Moira Page, 23, saxophonist, from Dublin; Christine Lee, 21, drummer, she's from Colchester, Essex, Mary Cullen, 23, organist, from Limerick, Eire; Una Mellor, 23, bass guitarist, from Sevenoaks, Kent; Lesley Arden and Anne Bridgeman, 23 year old lead guitarists.
Many people have assumed that the B-side writing credit was a reference to Jimmy Page, but it could be that the songwriter was actually Moira "Moy" Page, who was a member of the group.
Controversial.