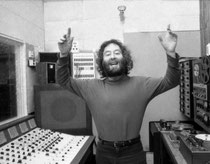 BASIL KIRCHIN

British jazz band-leader and experimental composer Basil Kirchin spent some time working for the De Wolfe Music library, then the largest in England, and 1966's Abstractions of the Industrial North is one of his finest efforts for the company. 
Originally recorded in 1966, the 11 evocatively titled pieces on Abstractions of the Industrial North are mostly minor-key and melodic, with arrangements that favor flutes, vibes, and electric piano and includes guitar work by a pre-Zep Jimmy Page and some sax and flute by Tubby Hayes.
The 2005 Trunk reissue fills out the brief running time of the original LP with eight previously uncollected music cues by Kirchin the most interesting of which is "Pageing Sullivan," which features an electric guitar battle between Jimmy Page and Big Jim Sullivan.