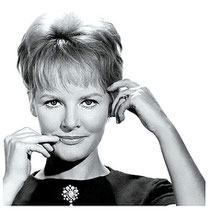 PETULA CLARK
A child star of film, TV, radio and record, known in the 1940s as 'Britain's Shirley Temple', Petula Clark had been signed to Pye since 1955 and enjoyed her first UK number one in 1961 with 'Sailor'.
The "Downtown" session took place on October1964.
The musicians assembled included eight violinists, two viola players and two cellists, four trumpeters and four trombonists, five woodwind players with flutes and oboes, percussionists, a bass player and a pianist.
Also present was famed session drummer Ronnie Verrell (not Bobby Graham, as has been erroneously reported elsewhere), female vocal trio the Breakaways, whose backing-singer credits would soon range from Dusty Springfield to the Jimi Hendrix Experience, and session guitarists Big Jim Sullivan, Vic Flick and Jimmy Page.