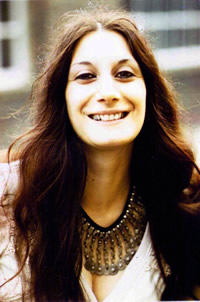 BEVERLEY
Beverley Kutner was born near Coventry.
While still a student, she was picked to front The Levee Breakers, a jug band featuring Mac McGann and Johnny Joyce, who played the folk circuit in south east England.
At the age of 16 she recorded her first single "Babe I'm Leaving You", which was released on the Parlophone label in 1965.
Martyn was then signed as a solo artist to the Deram Records label.
In 1966 she released a single, "Happy New Year" (b-side "Where The Good Times Are"), written by Randy Newman, on which she was accompanied by Jimmy Page, John Paul Jones, Nicky Hopkins and Andy White. "Happy New Year" was chosen as the very first single release on the brand new Deram label, distributed by Decca Records, in 1966, catalogue number DM 101.
'Where The Good times Are' was cut twice in the studio,
the version featuring Jimmy Page (and JP Jones) was released in 1966. 
(Thanks to Ronen G. @ "Fly Records")