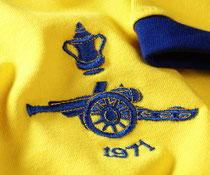 THE ARSENAL 1ST TEAM SQUAD
April 1971 was a quiet month for Led Zeppelin, having just completed a UK tour the previous month.
From what we can gather they played the Marquee on March 23rd and somebody from Pye Records asked Jimmy if he would play guitar on their morale boosting single to be called "Good Old Arsenal".
There are rumours that the rest of the band may also be present in the chorus but it's yet to be verified...