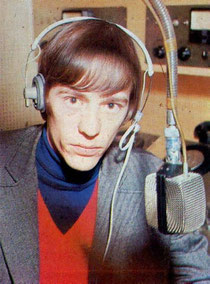 TOMMY VANCE
Tommy Vance was a DJ that ended up getting quite popular after the failure of his attempt to became a records artist.
His career is limited to two singles released by Columbia in 1966.
The first, "You Must Be The One" is a Jagger-Richard composition, with the b-side "Why Treat Me This Way", was released in September.
Jimmy Page is involved with these songs, playing probably on both sides as Vance once confirmed himself.
The second single of Vance, "Off The Hook", another Jagger-Richard composition, with "Summertime" as the b-side, possibly also has Page on guitar.